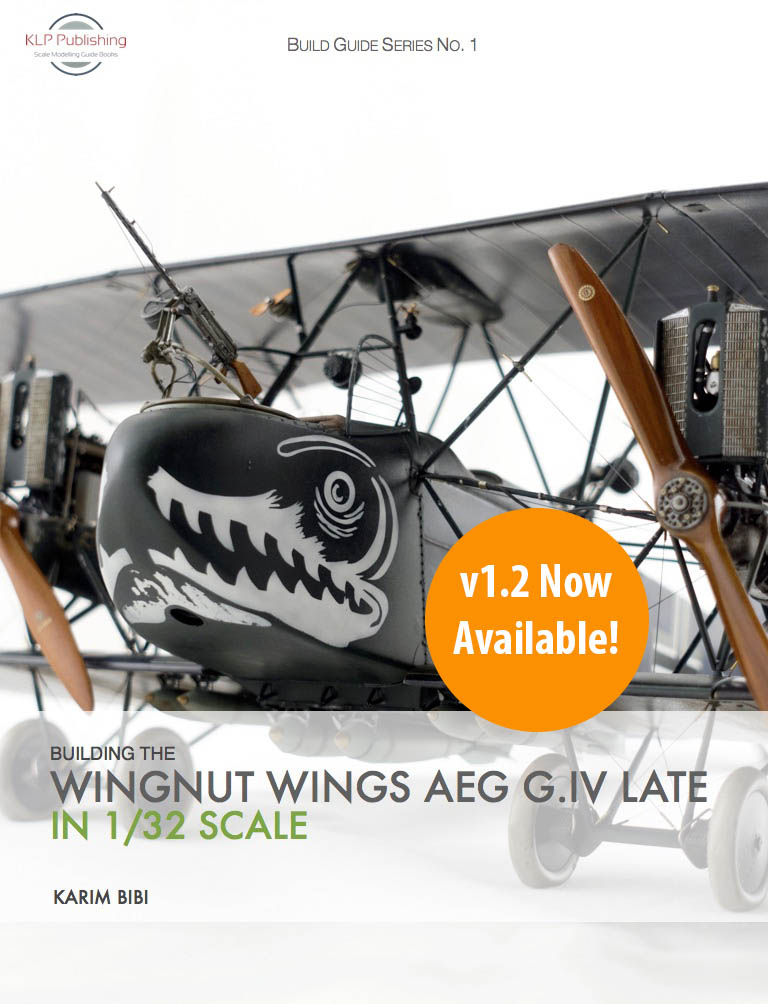 With the impending release of Building the Wingnut Wings Albatros D.Va in 1/32 Scale, by Karim Bibi, I thought I'd take the opportunity to update and expand Karim's earlier title: Building the Wingnut Wings AEG G.IV Late in 1/32 Scale.
Building the Wingnut Wings AEG G.IV Late in 1/32 Scale
Written by expert modeller Karim Bibi, this 183-page digital book takes you through building the impressive Wingnut Wings 1/32 scale AEG G.IV Late kit. Karim shows you the building, painting, decalling, and weathering techniques he used to produce his stunning model, including how to produce paint masks to replicate the iconic nose markings.
Version 1.4 now available!
Note: all our prices are in Australian dollars.
The Version 1.2 update includes a new bio for Karim, a new Contents page with clickable links, and the introduction of a new Appendices section covering aftermarket and reference items. This brings it in line with our more recent titles, and adds 13 pages to the book overall.
And for existing purchasers of the book, you can download the new update for free! Long-time customers will already know that we offer free lifetime updates to all our titles whenever they're released, as long as you didn't purchase it as a guest (if you did, contact me and we can sort it out). For new purchasers, the price remains the same as it has always been: just 15 Australian dollars. Bargain!
Here's what some of our readers have said about Building the Wingnut Wings AEG G.IV Late in 1/32 Scale:
"I can't recommend this book highly enough. Go grab a copy!"
– Bob's Buckles, England
"Having purchased two of the WNW AEG's, this e-book looked too good to pass up. Easily downloaded from KLP's web store, it comes in an easy to read PDF. Haven't read the entire book as of yet, but the information and tips gathered from a cursory read this far are brilliant! A definite highly recommended!"
– Military Replicas In Scale, via Facebook
"Yes, this is a great book, worth every penny and then some!"
– Tracy Hancock
So, download your updated copy, or head over to our webshop and grab yourselves a bargain!