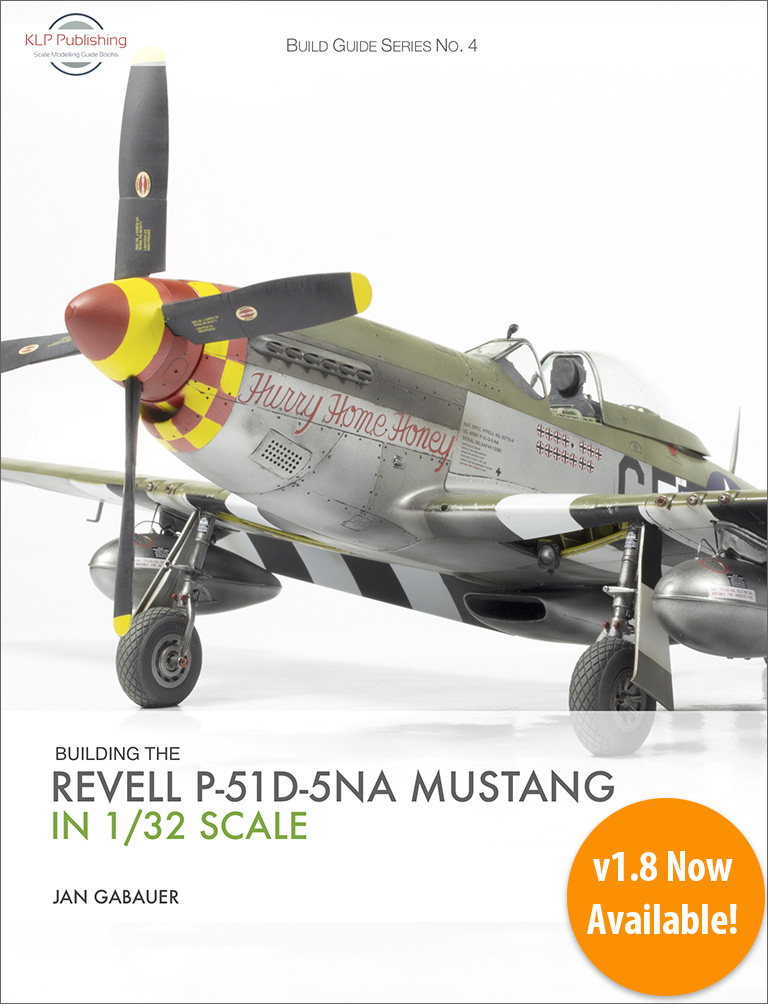 One of the cornerstones of the KLP Publishing business model is lifetime free updates on all of our titles. And it's not an empty promise, as anyone who has been following us for any length of time can attest. Our books get updated on an as-needs basis, and these updates can range from something as small as fixing a typo, all the way up to adding entire new sections to the book.
The fourth title in our Build Guide Series, Building the Revell P-51D-5NA Mustang in 1/32 Scale, was updated only a month ago, but here we are again, updating it to v1.8! There's always been this one product image in this book that I've never been happy with, and I've finally been able to replace it with a slightly better version. And you can bet that if I find an even better version, I'll be updating the book again!
Building the Revell P-51D-5NA Mustang in 1/32 Scale
In this 103-page eBook, Jan Gabauer builds, paints, and weathers the new Revell 1/32 P-51D kit to produce an excellent rendition of Major Richard A. Peterson's "Hurry Home Honey".
The book features not only Jan's terrific build guide, but also artwork by Juanita Franzi, a review of the kit itself, and an extensive set of appendices covering applicable aftermarket products and reference works.
v2.1 Now Available!
Note: all our prices are in Australian dollars.
As always, this update is free for existing purchasers, and new purchasers will always get the very latest version. If you purchased this book while logged in to your account, simply re-download it from the Downloads section of your profile on the KLP website. The original download link in your order confirmation email should also work. If you don't have an account and haven't kept the original email, create an account and then contact me, and we'll get it sorted out.
To stay tuned for further news and updates, simply subscribe to our blog via email, and you'll get all the latest in your in-box as it happens.