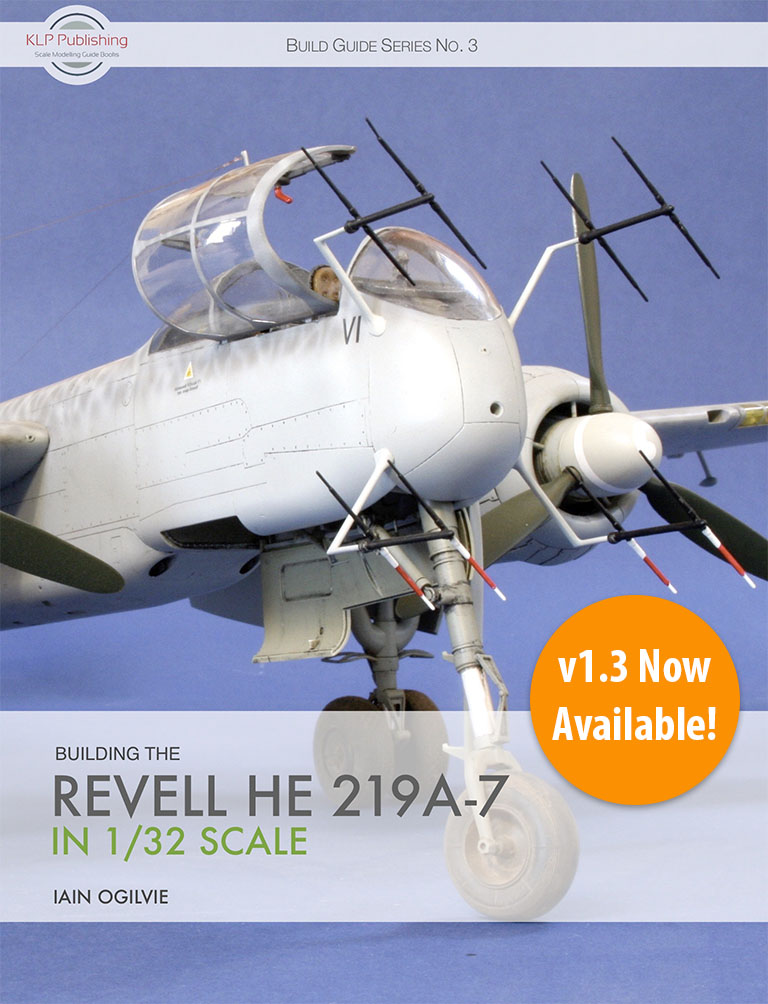 We continue with our efforts to update our books with the v1.3 release of Building the Revell He 219A-7 in 1/32 Scale, by Iain Ogilvie. And to celebrate, for the next five days we've reduced the price to just 12 Australian dollars!
Building the Revell He 219A-7 in 1/32 Scale
In this 117-page eBook, renowned UK modeller Iain Ogilvie tackles the Revell 1/32 scale He 219A-7 kit, finishing it to a superb standard. Along with plenty of hints and tips throughout the build, Iain navigates a simple but ingenious way of correcting the kit's major flaw: misshapen engine nacelles that are set at an incorrect angle.
v2.1 Now Available!
Note: all our prices are in Australian dollars.
This new update introduces a new Contents page with clickable links, and eight new pages of photos featuring the fully-assembled He 219 at the Udvar-Hazy Center, an annex of the Smithsonian National Air and Space Museum, plus a few minor tweaks along the way.
As always, existing purchasers can download the latest version for free, while new purchasers will of course receive the updated version. For more information on how this works, please see my recent article on obtaining free book updates.
Here's what readers have to say about this book:
"I then purchased your eBook and it is outstanding!  Of all the reference I have on the He 219, this was a great addition on the building aspect."
– James Fullingim, USA
"…the book is fantastic!"
– Juan Benitez
"This is clearly a book written by modellers for modellers. The text is clear and concise and the great selection of crisp pictures is welcome. Highly recommended."
– Julien Dixon, Britmodeller review
So, head on over to our webstore and grab yourselves a bargain! The sale will run until midnight this coming Saturday, 23 October.