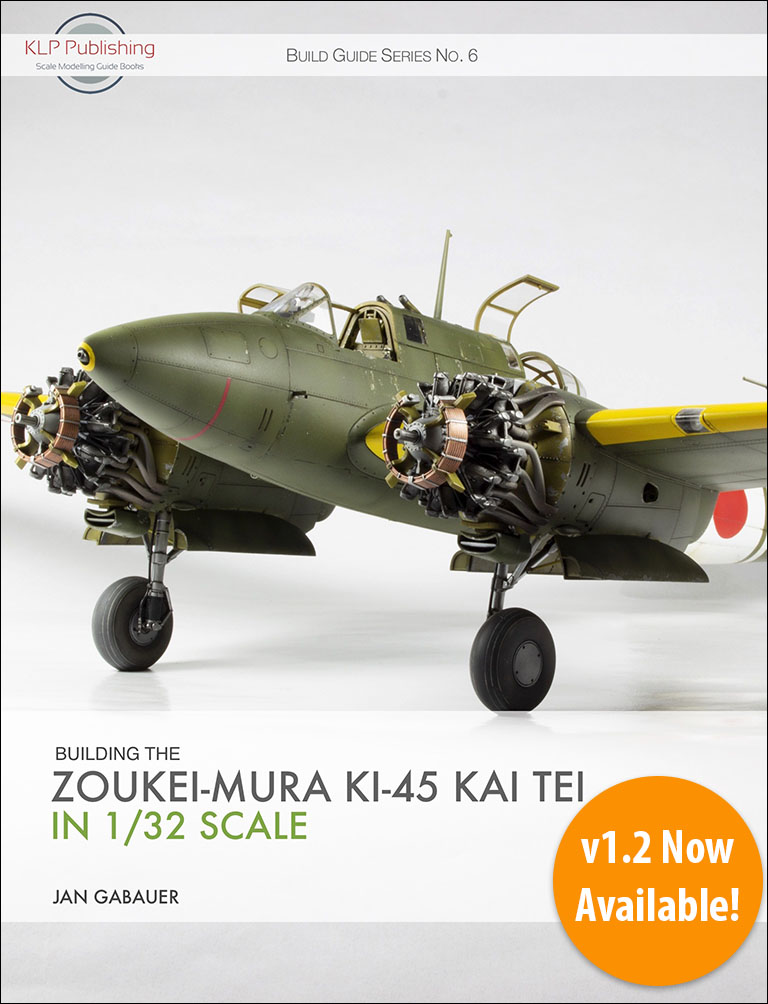 I'm pleased to announce that Building the Zoukei-Mura Ki-45 Kai Tei in 1/32 Scale, by Jan Gabauer, has just been updated to v1.2. And to celebrate, for the next few days, we've reduced the price to just 9 Australian dollars!
Building the Zoukei-Mura Ki-45 Kai Tei in 1/32 Scale
In this 104-page eBook, noted modeller and KLP author Jan Gabauer takes you through the building, painting, and finishing of the terrific 1/32 scale Ki-45 Kai Tei kit from Zoukei-Mura. Jan navigates the complexities of the build with aplomb, offering tips for overcoming the particular challenges of this kit. The process is very instructive, and results are quite spectacular!
v2.2 Now Available!
Note: all our prices are in Australian dollars.
The update itself consists of the addition of a handy Contents page with clickable links, and is in no way an urgent update. Of course, as always, existing purchasers can download the latest version for free, while new purchasers will of course receive the updated version. For more information on how this works, please see my recent article on obtaining free book updates.
Here's what some of our readers have said about this book:
"Just purchased. What a wealth of information! Thank you so much! Worth every penny! The model looks exquisite!"
– Dennis Karpenka, USA
"Great book and mega props to Jan on his build!! Love it!"
– Derek Brown, USA
So, head on over to our webstore and grab yourselves a bargain! The sale will run until midnight Tuesday, 25 October.