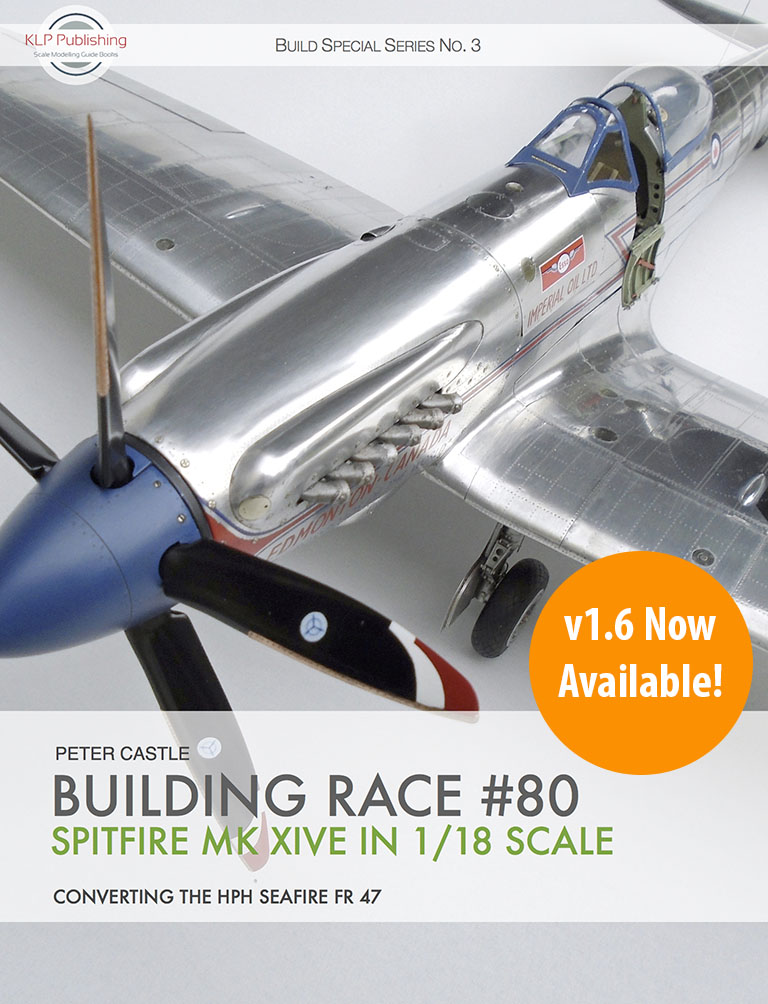 I'm pleased to announce that Building Race #80 Spitfire Mk XIVe in 1/18 Scale, by Peter Castle, has now been updated to v1.6. And to celebrate, we've reduced the price to just 16 Australian dollars for the next few days!
Building Race #80 Spitfire Mk XIVe in 1/18 Scale
This 574-page eBook features Peter Castle's award-winning conversion of the HpH Models 1/18 Seafire 47 to represent a Spitfire XIVe—specifically, Race #80, as flown by James McArthur in the Tinnerman Air Races at Cleveland, Ohio, on September 4th 1949.
v3.0 Now Available!
Note: all our prices are in Australian dollars.
This is our biggest title at 567 pages, so 16 Australian dollars is quite a bargain!
The update itself consists mainly of the addition of a handy Contents page with clickable links, and is in no way an urgent update. As always, existing purchasers can download the latest version for free, while new purchasers will of course receive the updated version. For more information on how this works, please see my recent article on obtaining free book updates.
Here's what some of our readers have said about this book:
"Hands down one of the best modelling books I've ever read."
– Chris Becker, Australia
"An excellent tour de force. I like the format very much and it is easy to follow, thorough.
Peter Castle is the dedicated modeler that my book was intended to help. That he took his effort to such an extreme is truly amazing. He deserves every award and recognition coming his way. People say "it's not brain surgery" but in his case I would have to say "it's exactly that". Such fine detail, the making of thousands of parts, developing techniques to make each part. Awesome!"
– Paul Monforton, Canada
"I was bowled over by the AEG book and i learned quite a few things about enhancing an exisiting kit. this book eclipses te former as it almost a scratchbuild. if you ever want to get inspired into aircraft modelling this is the book to go to. again the tutorials are clear and concise. Kudos to the author Peter Castle"
– Jan Hendriks, The Netherlands
So, head on over to our webstore and grab yourselves a bargain! The sale will run until midnight Thursday, 27 October.