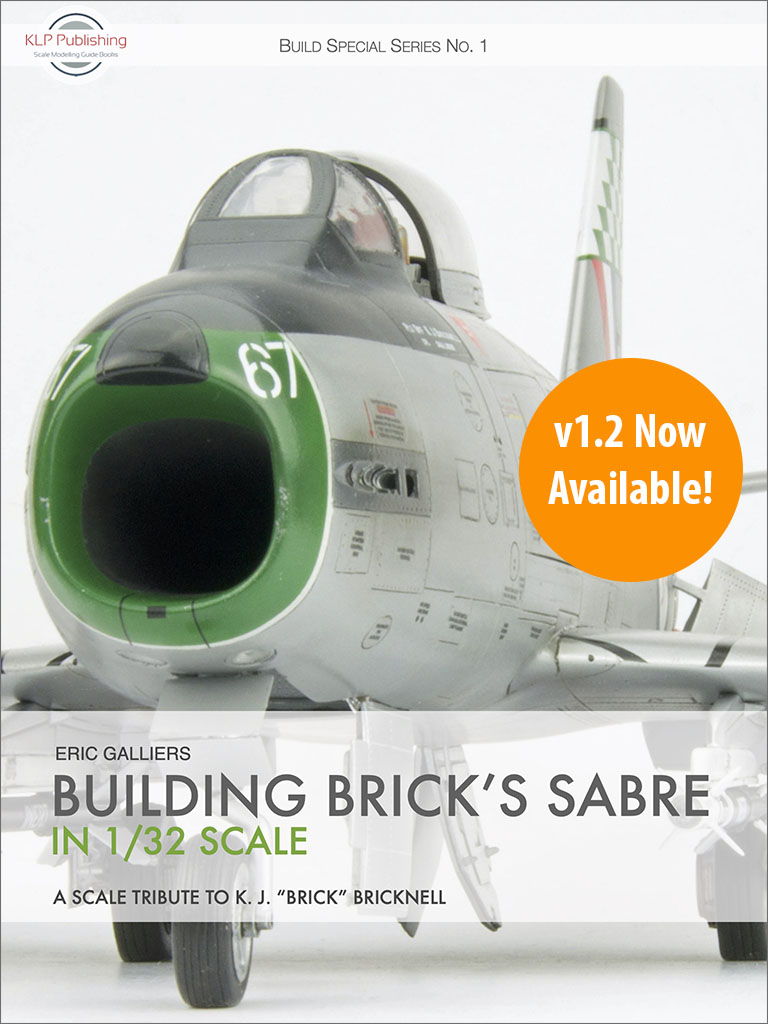 I'm pleased to announced that our very first title, Building Brick's Sabre in 1/32 Scale: A Scale Tribute to K.J. "Brick" Bricknell, by Eric Galliers, has now been updated to v1.2. Not only has this version been expanded by an additional 14 pages, but we've also temporarily reduced the price by 30% to a mere 10 Australian dollars!
Building Brick's Sabre in 1/32 Scale
Written by master modeller Eric Galliers, this 123-page digital book shows you how he built his award-winning 1/32 scale model of K.J. "Brick" Bricknell's CAC Sabre. Using the Italeri 1/32 scale F-86F kit as a basis, Eric modifies it to the Avon-powered configuration employed by CAC-built RAAF Sabres, to produce an exquisite replica of Brick's Sabre as he flew it in 1963.
v2.0 Now Available!
Note: all our prices are in Australian dollars.
The update itself comprises a new Contents page with handy clickable links, a new set of Appendices that cover available aftermarket and reference items, and some minor layout and typographical tweaks.
As always, existing purchasers can download the latest version for free, while new purchasers will of course receive the updated version. For more information on how this works, please see my recent article on obtaining free book updates.
Here's what some of our readers have said about this title:
"…this is what a model book should be like in this format…"
– John Svendsen, Australia
"Very nice ebook!! Highly recommended!"
– Tiberio Riva, Italy
"…it's excellent. Not only a great how to, but a lot of back story of the Aussy Sabre and the pilot. That said, the real good part is the customer service."
– Chuck Cook, USA
So, head on over to our webstore and grab yourselves a bargain! The sale will run until midnight Sunday, 31 October.