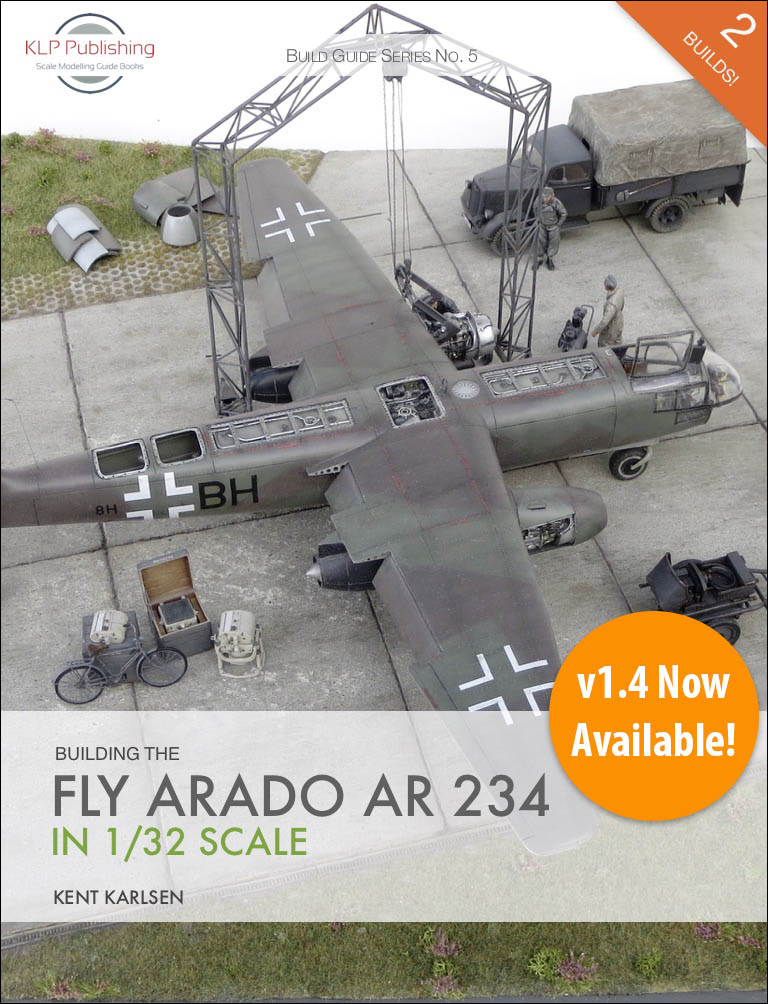 Just when I thought I could sit back smugly and declare the latest round of book updates over, I discover that Building the Fly Arado Ar 234 in 1/32 Scale still required a few tweaks, and so this has now been updated to v1.4. It's also still 30% off for the next day or so, so head on over to our webstore and grab yourself a bargain!
Building the Fly Arado Ar 234 in 1/32 Scale
In this 164-page eBook, Kent Karlsen builds not one, but two examples of the Fly Arado 234 kit in 1/32 scale.
The feature build sees Kent take kit 32008, add a ton of scratch-built detail, and then construct an amazing airfield maintenance diorama, in a scene that might have occurred at 'Fliegerhorst Grove' air base, in post-surrender Denmark.
For his second build, Kent converts kit 32003 into the V6 four-engine prototype, complete with figures and a Sd.Kfz.2 Kettenkrad from Zoukei-Mura.
v2.1 Now Available!
Note: all our prices are in Australian dollars.
"This is outstanding!!! Great job! What a bargain."
– James Fullingim, USA
"Well as with all the other KLP guides I've bought this is another excellent book. I'd even go to say the best especially with my luv of late war Luftwaffe subjects. Highly recommended."
– Aaron Scott, UK
"This is clearly a book written by modellers for modellers. The text is clear and concise and the great selection of crisp pictures is welcome. Highly recommended."
– Julien Dixon, Britmodeller review