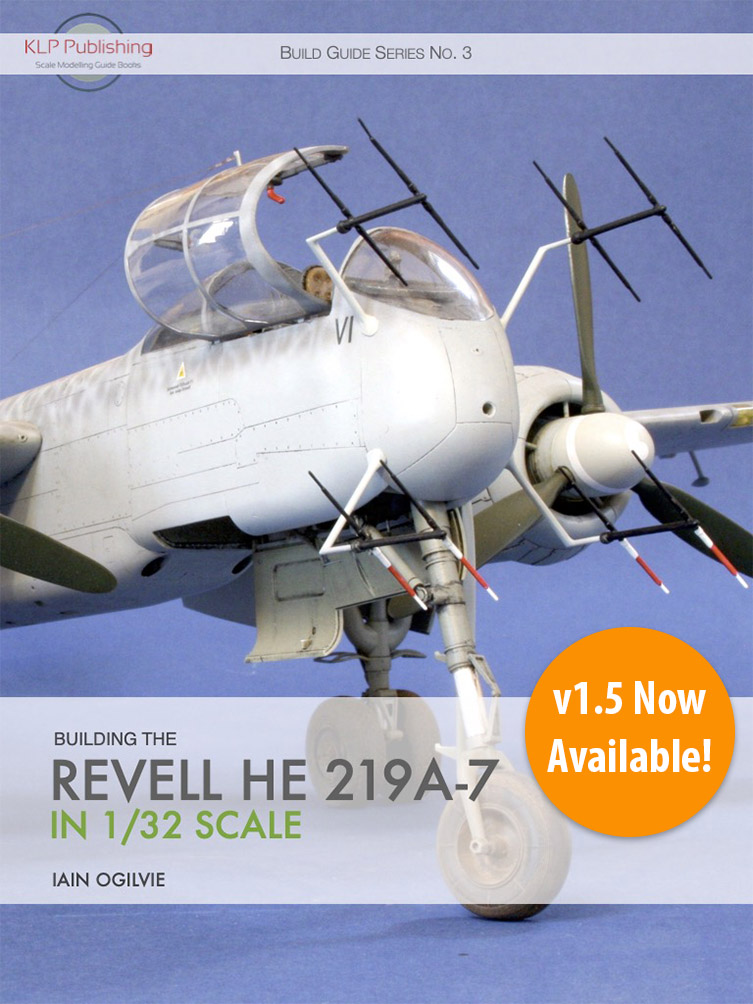 Tomorrow marks the fourth anniversary of the release of Building the Revell He 219A-7 in 1/32 Scale, by Iain Ogilvie. And to celebrate, we've not only updated it to version 1.5, but also reduced its price by a massive 33%! For the next five days, you can purchase and download this new version for just 10 Australian dollars. Bargain!
And of course, existing purchasers are able to access the updated version for free. Simply log in to your account (or use your original download link) and re-download the book from the Downloads section of your profile. If you don't have an account or the original download link, please contact me and we'll sort it out.
The update itself consists of some typographical adjustments, and is not considered vital.
Building the Revell He 219A-7 in 1/32 Scale
In this 117-page eBook, renowned UK modeller Iain Ogilvie tackles the Revell 1/32 scale He 219A-7 kit, finishing it to a superb standard. Along with plenty of hints and tips throughout the build, Iain navigates a simple but ingenious way of correcting the kit's major flaw: misshapen engine nacelles that are set at an incorrect angle.
v2.1 Now Available!
Note: all our prices are in Australian dollars.
What Our Readers Say
"I then purchased your eBook and it is outstanding! Of all the reference I have on the He 219, this was a great addition on the building aspect."
– James Fullingim, USA
"…the book is fantastic!"
– Juan Benitez
"This is clearly a book written by modellers for modellers. The text is clear and concise and the great selection of crisp pictures is welcome. Highly recommended."
– Julien Dixon, Britmodeller review