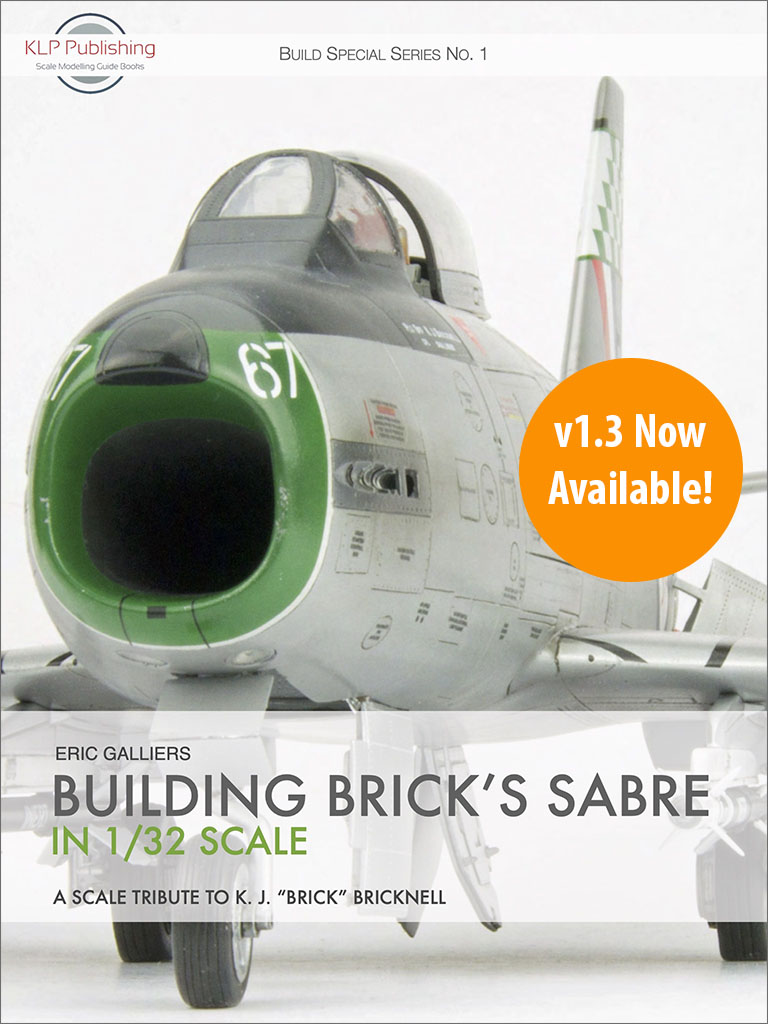 Our very first title, Building Brick's Sabre in 1/32 Scale: A Scale Tribute to K.J. "Brick" Bricknell, by Eric Galliers, turns 5 today! To celebrate, for the next 5 days we've reduced the price by a massive 33% to just 10 Australian dollars.
"…this is what a model book should be like in this format…"
– John Svendsen, Australia
"…it's excellent. Not only a great how to, but a lot of back story of the Aussy Sabre and the pilot. That said, the real good part is the customer service."
– Chuck Cook, USA
"This is a book written by modeller for modeller and it shows. The text is clear and concise and the pictures crisp. The additional history and words from the pilot really do add to the story of the aircraft. Highly recommended."
– Julien Dixon, Britmodeller review
Building Brick's Sabre in 1/32 Scale
Written by master modeller Eric Galliers, this 123-page digital book shows you how he built his award-winning 1/32 scale model of K.J. "Brick" Bricknell's CAC Sabre. Using the Italeri 1/32 scale F-86F kit as a basis, Eric modifies it to the Avon-powered configuration employed by CAC-built RAAF Sabres, to produce an exquisite replica of Brick's Sabre as he flew it in 1963.
v2.0 Now Available!
Note: all our prices are in Australian dollars.
So head on over to our webstore and grab yourselves a bargain!
And stay tuned for the imminent announcement of our next project…